Hornby Railway Collectors' Association
The Leading Society for Vintage Hornby Trains 1920 to 1965
Welcome to our world! HRCA members have been playing trains for over 50 years: 1969-2023
---
HRCA In the Media!
British Railway Modelling magazine has published an article and FOUR videos about the HRCA! The article appeared in the January 2023 issue, with accompanying YouTube videos. We're also pleased to announce that we will feature in Collectors' Gazette later in Spring 2023. The HRCA will feature in the Gazette's popular series 'Meet The Model Club'.
---
During 2023 we are holding another two exhibitions: one for public admittance and one for members only!
Come and see Vintage Hornby at the National Railway Museum, Shildon, Co.Durham in the North of England on 13th and 14th May 2023.
Joins us and benefit from a monthly journal (10 in a year), online auctions, and much much more.
There will be a good mix of Hornby O-gauge and Dublo layouts in both Electric and Clockwork plus other displays at the exhibitions. On 7th October 2023 we'll be at the British Motor Museum Gaydon where there will also be many trade tables selling vintage Hornby trains and spares, together with the ever popular members' Bring and Buy stall.
If you'd like to attend these and future events, and aren't yet an HRCA member, you are very welcome to join us now.
Joining is quick and easy online, or you can send a cheque by post.
Benefits of HRCA Membership include:
10 journals per year packed full of articles and information
Spares and Repairs Directory containing over 100 suppliers of parts and services
Auction sales of members and family's collections
Access to the Members' area of this website, discussion Forum, Wiki, journal indexes and detailed events diary
Local area groups, some with regular formal meetings, others organising specialist meetings, exhibitions and sales
Archive drawings, copies of many original Meccano Ltd drawings available for research or reproduction of parts
Model insurance, we are able to advise the names of two specialist model railway insurers. (We cannot however recommend an insurer due to financial law)
Valuation service for Executors and Trustees of deceased member's collections
Library service for copies from, or loans of, back issues of the Hornby Railway Collector
Journal back issue service, sale of complete new or second-hand issues
Association regalia, fleeces, embroidered pullovers, etc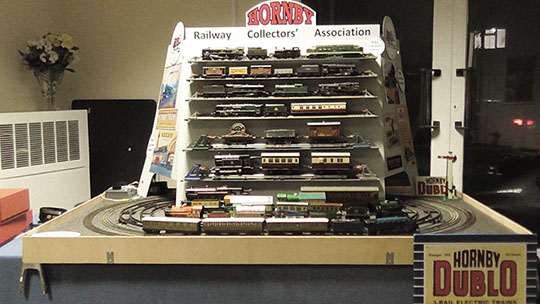 Hundreds of enthusiasts visited the HRCA stand at the Warley National Model Railway exhibition at the NEC. Some joined on the spot and others took away journals and membership applications forms.
---
Perhaps you'll recognise your childhood toys via a video reminder?
---
Let us introduce ourselves and outline what the association does.....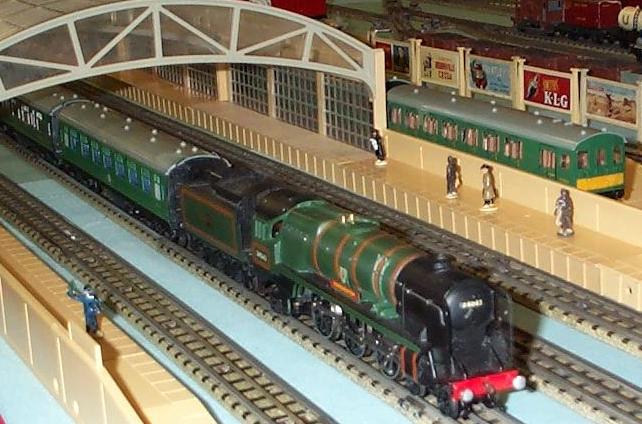 Did you ever play with Hornby 0-gauge or Dublo? Then you'll enjoy this website. Society members organise many area meetings throughout the country. The HRCA produces a monthly journal ('the Collector'), and has links with a number of sister organisations abroad. There are thousands of us across the country and round the world - join us! Certain parts of this website are for members only including a Forum and Wiki.
The HRCA is a non-profit-making organisation, founded to stimulate interest and facilitate communication among collectors and operators of Hornby Trains and accessories, specifically the '0' Gauge, Dublo & Acho ranges, as manufactured by Meccano Ltd. in their British factories up to 1965 and overseas up to 1973. Feel free to browse the website to get more information about the society and its functions, and be sure to consider applying for membership.
The HRCA has around 2,000 members world wide interested in Vintage Hornby trains manufactured by Meccano Ltd:
Hornby O-gauge clockwork and electric (1920 to 1965)
Hornby Dublo 3-rail clockwork and electric (1938 to 1965)
Hornby Dublo 2-rail electric (1959 to 1965)
Hornby Acho 2-rail electric (1960 to 1973)
Membership of the HRCA affords many benefits:
Monthly 40+ page colour journal the 'Hornby Railway Collector' (excluding January & July) Click here to view Sample Journals
Directory of Replacement and Repair Services lists around 100 suppliers (both on-line and in hardcopy)
Details of local area groups
Auction sales for members only (online catalogue with photos of each lot)
Annual Model Railway Exhibition and AGM
Library and back issue services for the journal
Association Regalia (badges, embroidered pullovers, etc.)
Access to the members' area of this website
Lively on-line discussion Forum
On-line access to all Journals (right back to issue 1 in 1969 when the HRCA was formed!)
Detail diary of events and local area group meetings
On-line access to a growing list of original Catalogues and Publication
You are welcome to browse this website and visit the Photo Gallery. Click here to see the full list of membership rates and application forms.
The HRCA now has a presence on Facebook! Whilst our Forum, Wiki, Auction Catalogues, On-line Journals (and more) remain in the 'members only' arena, you are very welcome to post your pictures and comments on our Facebook pages. If you like what you see then please do consider becoming an HRCA member. Our membership rates are very reasonable and we even take Direct Debits and PayPal these days!



<-- Click here to visit the HRCA's main Facebook Page


<-- Click here to visit the 'Hornby 0 Gauge Trains - HRCA' Facebook Page
(Facebook login required to join this 'closed group')

<-- Click here to visit the 'Hornby Dublo Trains - HRCA' Facebook Page
(Facebook login required

to join this 'closed group'

)

H.R.C.A. LTD is a company limited by guarantee, incorporated in England and Wales with registered number 11146345, whose registered office is at Olympus House, Olympus Avenue, Leamington Spa, Warwickshire CV34 6BF