Hornby Railway Collectors' Association
---
Welcome to the world of Vintage

Hornby

Trains!
A warm welcome to the Hornby Railway Collectors' Association.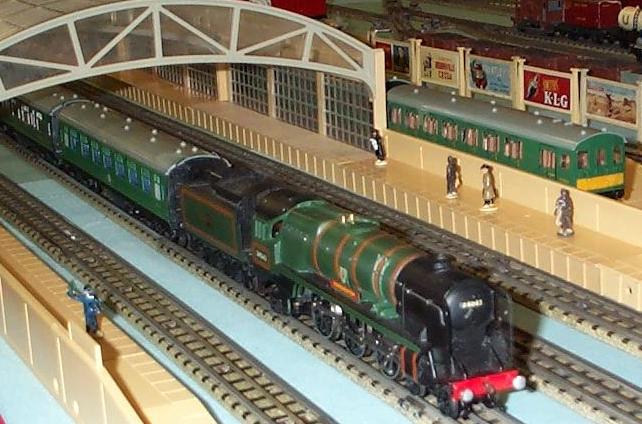 Did you ever play with Hornby 0-gauge or Dublo? Then you'll enjoy this website. The society organises many area meetings throughout the country, produces a monthly journal ('the Collector'), and has links with a number of sister organisations abroad. There are thousands of us across the country and round the world - join us! Certain parts of this website are for members only including a Forum and Wiki.
The HRCA is a non-profit-making organisation, founded to stimulate interest and facilitate communication among collectors and operators of Hornby Trains and accessories, specifically the '0' Gauge, Dublo & Acho ranges, as manufactured by Meccano Ltd. in their British factories up to 1965 and overseas up to 1973. Feel free to browse the website to get more information about the society and its functions, and be sure to consider applying for membership.
The HRCA has around 2,000 members world wide interested in Vintage Hornby trains manufactured by Meccano Ltd:
Hornby O-gauge clockwork and electric (1920 to 1965)
Hornby Dublo 3-rail clockwork and electric (1938 to 1965)
Hornby Dublo 2-rail electric (1959 to 1965)
Membership of the HRCA affords many benefits:
Monthly 30+ page colour journal the 'Hornby Railway Collector' (excluding January & July) Click here to view Sample Journals
Regular Directory of Replacement and Repair Services lists around 100 suppliers (both on-line and in hardcopy)
Details of local area groups
Auction sales for members only (online catalogue with photos of each lot)
Annual Model Railway Exhibition and AGM
Library and back issue services for the journal
Association Regalia (badges, embroidered pullovers, etc.)
Access to the members' area of this website
Lively on-line discussion Forum
On-line access to all Journals (right back to issue 1 in 1969 when the HRCA was formed!)
Detail diary of events and local area group meetings
On-line access to a growing list of original Catalogues and Publication
You are welcome to browse this website and visit the Photo Gallery. Click here to see the full list of membership rates and application forms.
The HRCA now has a presence on Facebook! Whilst our Forum, Wiki, Auction Catalogues, On-line Journals (and more) remain in the 'members only' arena, you are very welcome to post your pictures and comments on our Facebook pages. If you like what you see then please do consider becoming an HRCA member. Our membership rates are very reasonable and we even take PayPal these days!



<-- Click here to visit the HRCA's main Facebook Page


<-- Click here to visit the 'Hornby 0 Gauge Trains - HRCA' Facebook Page
(Facebook login required to join this 'closed group')

<-- Click here to visit the 'Hornby Dublo Trains - HRCA' Facebook Page
(Facebook login required

to join this 'closed group'

)